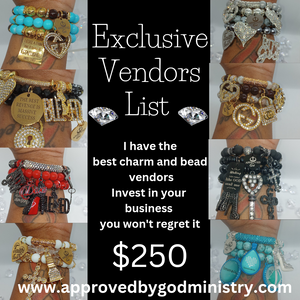 Please Read❗❗❗❗❗❗❗
Wanna know where I get all my Beads and charms? Purchase my vendor list and you will be 100% satisfied
The best vendor!! They ship super fast from China (7-10days)
 I trust them and shop with them weekly
Only one vendor is included they have everything you need
 The only purpose of purchasing this vendor is for those who want to purchase charms and beads wholesale
 Items the vendor's sell are:
 Once you purchase the vendor list it will be emailed to you, please be sure to enter the correct email. There are no refunds. Emails will only be sent onceIt's time to take a leap of faith and invest in yourself ❤️
If you are thinking about making bracelets I have the best vendors ever. Which will include designer charms, non designer charms, faith based charms and more. If you look at my work you'll see that the proof is there.
 Now, understand this business is not for everyone. Making bracelets takes time, patience, consistency and hard work. The main thing you must do is put God first and the rest will be easy.
It's a must that you have a passion for it that's where your creativity will come in. If you just do it for the money then you'll never be satisfied. There will be good days and bad days. Large orders and small orders. The key is to not give up during the process This is a very lucrative business and with your creativity and prayer you'll create one of a kind pieces that people will be eager to purchase.
The money will come just stay prayed up and have fun while doing it.
Many blessings to you and your business ❤️
Vendor's List
The vendor's list is awesome!! You can get your supplies from this vendor or Danyale. If you are looking to start your own business, these are great resources.
Vendors list
I love my vendors list. It gives me more independence in running my own business. Thank you so much.